October 6, 2022 | Scott Kelley
Whole Cluster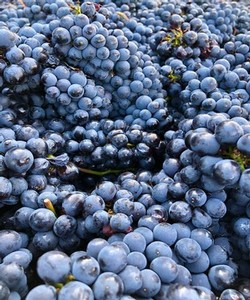 As the harvest season is in full swing, I thought it would be fun to discuss my favorite winemaking technique….Whole Cluster. Whole cluster fermentation was derived from the technique called Carbonic Maceration where a winemaker can place 100% of the clusters in a vessel void of oxygen using carbon dioxide. The fruit is held for 5-10 days then either inoculated with yeast or pressed off and fermented. These wines are typically very fruity, lighter in style and meant to be consumed young. Wines such as Beaujolais Nouveau (Gamay) are often made using partial carbonic maceration.
Rather than do 100% carbonic maceration, I prefer to only add a portion of whole clusters to my tanks. Most of my Pinot Noir wines include an average of about 25% whole clusters in the fermentation vessel. There is some serious biochemistry involved but I will try to keep it simple. Once harvested, we take whole clusters from the vineyard and place them in the bottom of the fermentation vessel which has been purged of oxygen with dry ice. Then we put destemmed fruit on top of those clusters and again cover that tank with a blanket of carbon dioxide using dry ice. At this point we inoculate the fermenter with yeast and proceed with a normal fermentation. However, as the yeast release heat the tank warms up to about 80F which activates a host of enzymes inside each of those intact berries. Under anaerobic conditions (no oxygen), independent of microbial activity, the enzymes transform the natural acids in the berry to a bit of ethanol as well as an amazing array of flavor compounds such as strawberry, cherry, raspberry, and cinnamon. This gives Pinot Noir the lovely "lifted" fruit aromas like framboise that invites you into the glass.
I choose to limit the whole cluster portion of the ferment at 25% because with the whole clusters come the stems. The stems do contribute some tannin and if not ripe could lead to green aromas and bitterness. Some winemakers choose to do whole cluster, and some do not, as their personal preference. This allows for another dimension of character in the wines. Although Pinot Noir and Gamay are the most common varieties where whole cluster is typically employed, you may also occasionally see wines whole cluster in Cab Franc, Syrah, and Grenache.
Comments
Commenting has been turned off.
Blog
Recent Posts
February 3, 2023

October 6, 2022

July 6, 2022

April 6, 2022

January 3, 2022

December 1, 2021

February 24, 2021

February 26, 2018

February 21, 2018

February 5, 2018
Blog Categories
Our Writers
Blog Archives