February 26, 2018 | Scott Kelley
Grape Harvester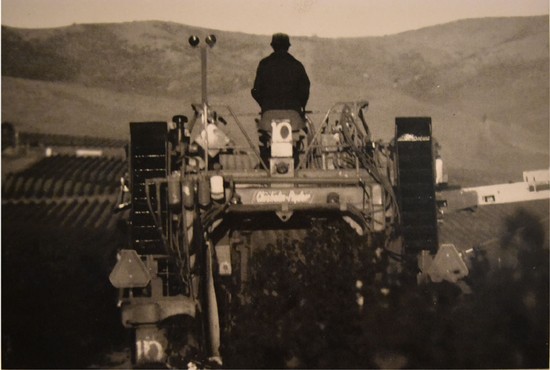 Paraiso Springs Vineyards | Monterey 1991
Scott's Start in the Wine Business
When I graduated High school, I was seventeen years old and had no idea what I was going to study in college (or do with my life for that matter). I knew I liked chemistry and grew up around agriculture, other than that it was a mystery. I took a job that first summer working for my middle brother's soon to be father-in-law at a men's store. I had to wear a tie everyday and my first week was spent pressing & ironing clothes as they got ready for a big sale. Needless to say this was not my calling.
I called my oldest brother, who had just taken a job with a nearby vineyard management company, to mostly lament about my current job. He offered me a short term job of cleaning the grape press. At that point I would have taken a job cleaning sewers. So off I went to Soledad, Ca to scrub a grape press inside and out with a scotch pad. After that was done they told me to head over to the shop to see if they needed any help. I spent the rest of the summer changing oil on tractors, learning how to weld and fix grape harvesters. I was in heaven. But the real hook came when the owner found out I knew a bit about basic chemistry and asked me to sample vineyards to test for sugar and acidity. By the end of that first summer I was hooked.
At the end of the summer the owners held a release party for a new winery they had started and I was invited. Meeting the winemaker and seeing the customers enjoy this magical product that came from grapes had a real impact. I asked the owner how does one become a winemaker? "You go to UCDavis" he said. There were a few other programs at the time but he was a little biased being a Davis grad himself. Both of my parents had graduated from Davis as had my maternal grandparents. Seemed like a good fit. So I enrolled at UC Davis to study Fermentation Science.
Every summer and winter break I spent back in Soledad working on grape harvesters and sampling grapes. It was a great way to learn that side of the industry and make a little money for college. I owe my start in the wine business to that opportunity and will never forget that experience.
Comments
Commenting has been turned off.
Blog
Recent Posts
February 3, 2023

October 6, 2022

July 6, 2022

April 6, 2022

January 3, 2022

December 1, 2021

February 24, 2021

February 26, 2018

February 21, 2018

February 5, 2018
Blog Categories
Our Writers
Blog Archives